How much does Ganttic's resource planning software cost? Well, that all depends on how many Resources you have to plan with.
Resources can be anything from people, tools, equipment to rooms, vehicles, etc. The more Resources you add to Ganttic, the bigger the package you'll require.
Whichever package you choose, you will never pay more for using a Resource in Ganttic than you are paying for a cup of coffee each day. Plus, we're super flexible! Upgrade or downgrade your Resource count at any time, only pay for what you use.
We offer discounts for annual subscriptions, as well as educational and enterprise accounts. And if you only have 10 Resources or less, you can activate the free plan.
Every package guarantees the same features - there's no confusing pricing tiers and there's no limit on Users or Projects. The only difference is the amount of Resources you plan with.
For Pro packages, prices start from $25 per month and go up, the more Resources you require. The Pro 20 plan gives you up to 20 Resources, Pro 150 up to 150 Resources, and so on. You can find the full pricing chart here.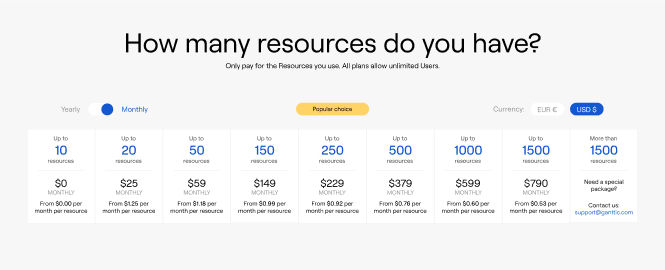 When done right, resource planning can help:
Reduce costly errors in booking

Hit project deadlines, every time

Increase resource efficiency to get more out of less
Meaning eventually the software will begin to pay for itself. So when you're ready to get started sign up here or read more about upgrading to a Pro package.
Didn't find the answer you were looking for? Contact us!