Ganttic's Time Off feature is a way to block out a certain time period for Resources without affecting actual Resource workload or Busy Time. Use it to schedule vacation time and leave, company-wide events, scheduled maintenance for machines, or short breaks for staff (out of office, lunch, sick leave, etc.).
Must-know
All

Owners

,

Admins

and

Users with Resource Task add/edit rights

can schedule Time off.

Time Off

will block off time for

individual Resources

, while

All Resources' Time Off

affects the

entire Resource pool

.

This feature is full-day by default, but can be used to book shorter breaks as well.

Neither Time Off option will affect Resource Busy Time, but does limit a Resource's availability - as such its use may affect Available Time and Utilization calculations.
Scheduling Time Off for Individual Resources
Start by

creating a new Task for a Resource. Below the

Name

field

,

select

Time Off.

Add a

Name

and change the

Start

and

End

dates as needed.

Time Off is full-day by default. Change this by unchecking the All day option.
When editing is complete, click Save.
Time off will appear in the planner. You can change the color and transparency from General Settings > Coloring

.

Hover over the scheduled Time Off to see the Name when in the Gantt chart.



Scheduling Time Off for All Resources
Schedule a new Task and select

All Resources' Time Off

below the

Name

field.

Add a

Name

and check the

Timing options.

Add and edit any

Task Data Fields

you need. Remember to click

Save upon completion.





In the Gantt chart, you'll see that Time Off will be applied to

all

your Resources automatically

Change the color and transparency under General Settings > Coloring.


Additional Functions with Time Off
Creating Time Off for Multiple Resources
If scheduling Time off for more than one resource, but less than everyone, see how to assign it to multiple resources in one go.
Recurring Time Off
By clicking on the Repeat box, you can set the frequency and duration for recurring Time Off. For example, if you have daily standup meetings, setting it to Repeat is an easy way to "set it and forget it!"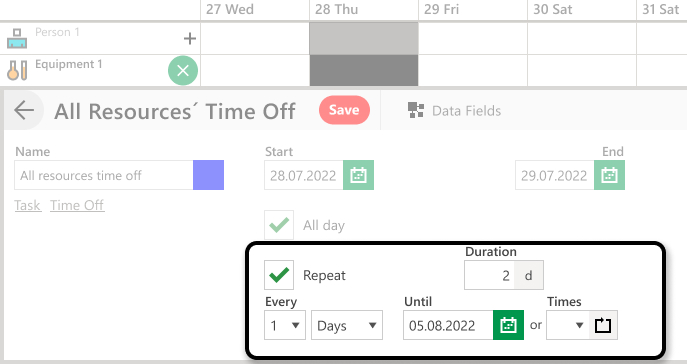 Time Off Use Cases
Use this feature to create your own company-wide events – such as a conference or an office party.

Time Off

can help you plan team-building activities, book short excursions or training.

Choose

Repeat

to quickly book recurring meetings such as daily standups.

Use it for any kind of personal leave, vacation time, parental leave, sick leave, or for short times when staff are out of office, at lunch, etc.

For non-human resources,

Time Off

is a simple way to schedule downtime or periods for maintenance or repairs.

Using

Reports

, you can get a rundown of all the Holiday time your team members take. Making this a convenient vacation tracker.
Next Steps
Adding Time Off to the plans is a great way to plan your staff's vacations, especially when summer rolls around. Help give team members the break they need, without interfering with the project schedule. And since taking a vacation can add a boost to productivity, your refreshed team will come back better than before.
And for more ways on scheduling holidays, check out how to easily bulk import country-specific bank and public holidays. Super useful when managing project teams located around the world.
Time Off can be included or excluded from Reports. Alternatively, it's possible to build Holiday and Time Off only Reports.
Didn't find the answer you were looking for? Contact us!