In Ganttic, Views are where the planning happens. It's the place where you can actually allocate Resources, track Task progress, and monitor utilization. A View is the way to see your planning data laid out as a Gantt chart, but they can also be anything you'd like it to be.
Because besides the place to do the actual resource planning, Views also act as a snapshot of the plans. And each View you create can tell a different story.
Views of your Projects; Views where Tasks are colored by Projects; Views where Tasks are colored by status; Views where Resources are grouped by manager. And on and on and on.
You'll find all your Custom Views located at the star icon. Think of it as a bookmark of each unique angle of the plans.



Discover more about adding new Views and managing the View list.
Customizing Views
A big part of the Ganttic planning experience is the possibility to create an almost endless amount of different Views. Which can come in handy when you want just a glimpse of the plans.
But it's also crucial when managing numerous projects and teams. Because it's not just about different data sets. It's about delivering the right information to the right set of eyes.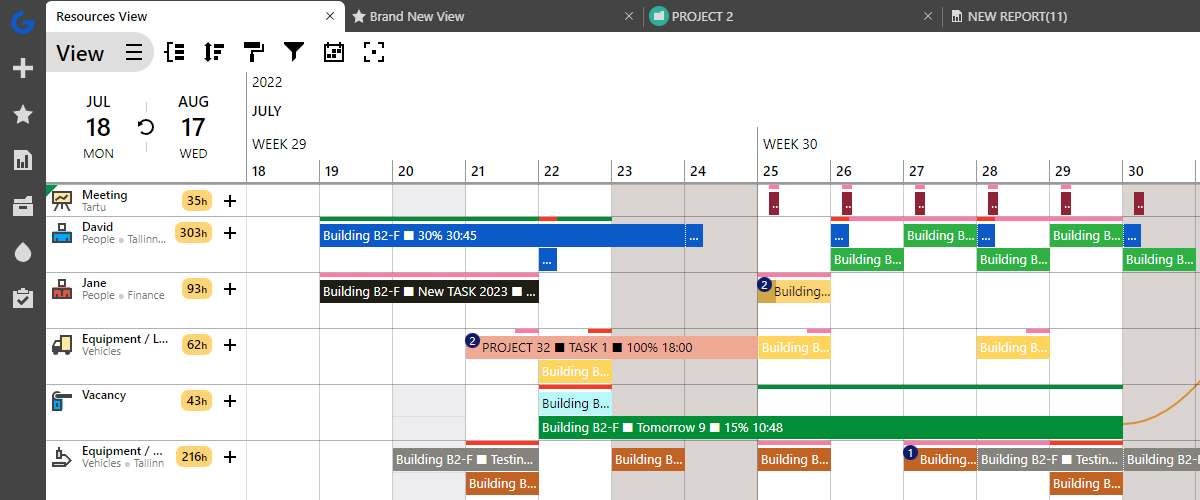 Customize and save Views in any combination to return to whenever the need arises. Create dozens of Views for different purposes by combining numerous features:
Sharing Views and View Permissions
Owners and Admins can choose whether the new View you created will be displayed to everyone on your team or just you. There's even an option to share that specific View to non-users (or users who don't want to bother logging into their account) - meaning everyone has a chance to see the plans. This option is handy for keeping freelancers or even clients abreast of any changes and overall progress.
Luckily this is easy to accomplish via Custom View specific User permissions and open-access URL views. Ensuring the plans can be communicated quickly and accurately.
Didn't find the answer you were looking for? Contact us!