Insert a pop of color into your plans. Learn how to create custom colors for use across the planner. As well as where to set the color of Non-Working Days, Time Off, and Public Holidays.
Must Know
Color Settings are only available to Owners and Admins.
In addition to the default color options, custom colors can be used to mark Non-Working Days, Bank Holidays, Time Off, Tasks, Resources and Projects.
For better visibility, it is possible to adjust the transparency of colors for non-working days.

Create a Custom Color Palette Color

Start from General Settings > Coloring under Color Palette. Find Ganttic's General Settings at the bottom of the left Sidebar with this icon.

Click on any gray square to open the color editor.
Choose a tone using the horizontal color slider. Adjust for brightness and saturation via the rectangle area on top of the editor.
Alternatively, enter the HEX color code, if you're after a predefined shade.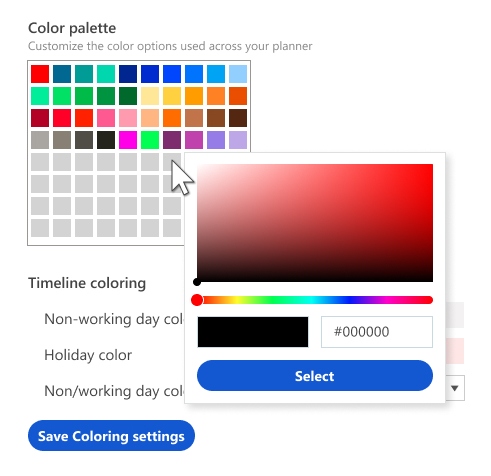 Adjust Timeline Coloring
Click on the square next to Non-working day color. Choose a color from the default color Palette or click Use custom color to create a shade of your choosing.
NB! Non-working days are configured under Settings > Working Time. These may be weekends or whatever days your organization is closed.
Do the same for Holiday color. Click on the square and choose either a default color or click Use custom color.
NB! Holidays include both Bank Holidays and Time Off.

Adjust the transparency by changing the number in the drop down menu. You'll see your choice reflected in the 2 squares above.
When you're ready, hit Save Coloring settings.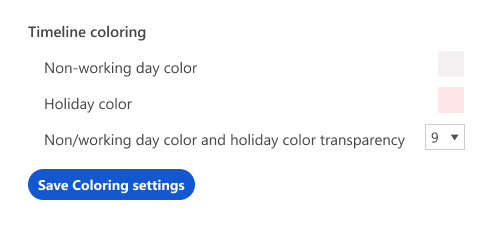 Next Steps
The color options you choose will be visible throughout the planner. You'll see the colors once you set up your Worktime Settings, or if you import public holidays for Resources. Custom coloring is available for Projects, Resources, and Tasks. This can come in handy when deciding how you want to color code your Taskbars within each View. For example color code by Task status, department, or the Project.
Check out a few ways to put your new color palette to good use, with some ideas on how to color code plans in project resource management.
Didn't find the answer you were looking for? Contact us!