Here you can make some tweaks to the actual Gantt chart in your Views. Learn how to adjust the Resources' chart row height and enable or disable the Task autosave feature.
Must Know
These settings are available only to Owners and Admins.
Once applied, these settings are will appear throughout the planner and are applied to all Users.
Resource chart row height can also be adjusted for each Custom and Project View separately via Visibility Settings.
With Task Autosave enabled, drag and drop edits made to existing Tasks will be saved automatically.
Chart Settings
Start from General Settings > Chart. Find Ganttic's General Settings at the bottom of the left Sidebar with this icon.

Start by setting the desired Chart row height.

Compact chart row option will reduce the height of the resource chart rows. Only resource names will be displayed on the left column.
Medium chart row height will enlarge the rows to display resource data field information below the resource names.




2. Toggle the switch to enable/disable Task autosave.
With autosave on, existing Tasks that are rescheduled or resized via drag and drop will save automatically. Creating a new Task or working in the Task Edit Dialog still requires clicking Save.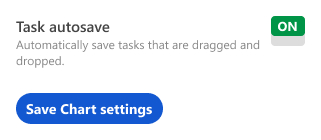 3. When finished, click on Save Chart settings

Next Steps
Test out how the Gantt Chart looks by opening a Single Project View or a Custom View. Then proceed to configuring your other General Settings by continuing to Working Time.
Didn't find the answer you were looking for? Contact us!