In Ganttic, each planning element - Resources, Tasks, and Projects, have their own individual colors. Find out how to set the color scheme for Resources and discover how to use that to take planning to the next level.
Must Know
Applying Resource Colors
Click on a

Resource Name to open its Resource Edit Dialog. Do this from the Resource List, a Single Project View, or a Custom View.




Click the

color box

next to the Resource Name. This will open the color pallet.

Choose a

color

or

create and use a custom color

. Assign a color to the Task and hit

Save

.
Resource Colors in Action
Once you've added colors to Resources, here's where they'll be present in your Ganttic planner.
On the Resource List
See the color chosen to represent that Resource from the Resource List. Its color is the first thing on the row.
NB! Click the color or on the Resource Name to edit the color and other details related to that Resource.



In the Calendar View
On the Calendar View, on-going Tasks are colored by the Resource color. Choose on the side whose information is displayed on the Calendar and double check who is represented by which color.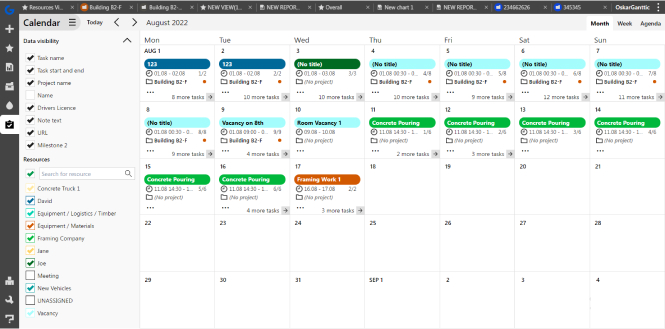 In the Agenda
Open the Agenda from the Calendar View. The dot next to the date coincides with the Resource. That way you can see who's got work going on for that day.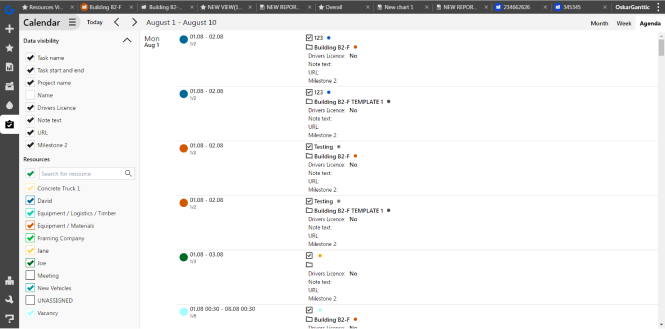 In a View
Resource colors can also be used in Custom or Single Project Views. The Taskbars on the Gantt chart can be set to reflect the Resource colors. Giving an additional color coding system for that View and an easy identifier of who's doing what.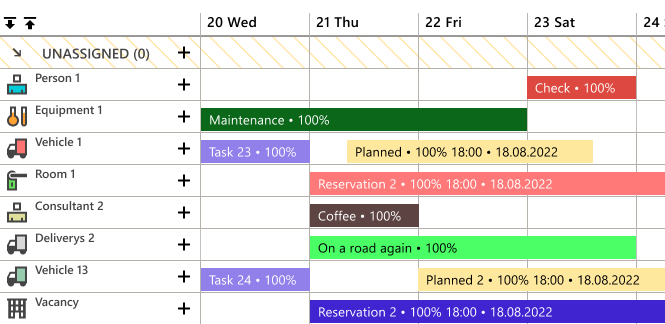 Applying Resource Colors to Taskbars
Open a Single Project or Custom View.

Open

Taskbar Coloring from the View's toolbar.




Select

Resource colors from Resource Data section





Hit

Apply

(temporary) or

Apply and Save

(permanent)

to save it to your View.

See your Taskbars in this specific View colored by Resource Colors.




Next Steps
Discover how to color code with your Project and Task data for a change of perspective.
Add colorful pizazz throughout your planner. Read some tips and gain some inspiration for how to use color to boost your project resource management.
Didn't find the answer you were looking for? Contact us!