Here you can customize the information shown on a View's Gantt chart taskbars. You can also choose a separator to keep this info organized.
Must Know
Only Owners and Admins are able to configure the Taskbar's info.
This setting applies to all Users across the account
Taskbar information can be hidden for specific Views via the View Visibility section.
Choose Taskbar Info
Start from Settings > Taskbar. Find Ganttic's General Settings at the bottom of the left Sidebar with this icon.

Toggle the ON/OFF switches to enable or disable specific Taskbar info. This includes:


Task Notes
Project Name
Task Name
Used time %
Used time hh:mm
Utilization %
Busy Time hh:mm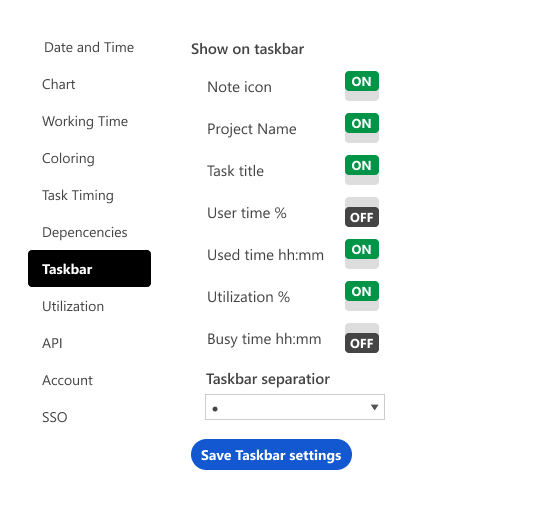 Choose Taskbar Separator
Select a Taskbar separator from the dropdown.
Click on Save Taskbar settings.


Next Steps
Finish setting up your planner by proceeding to Resource Utilization Graph Settings and other account settings.
Didn't find the answer you were looking for? Contact us!